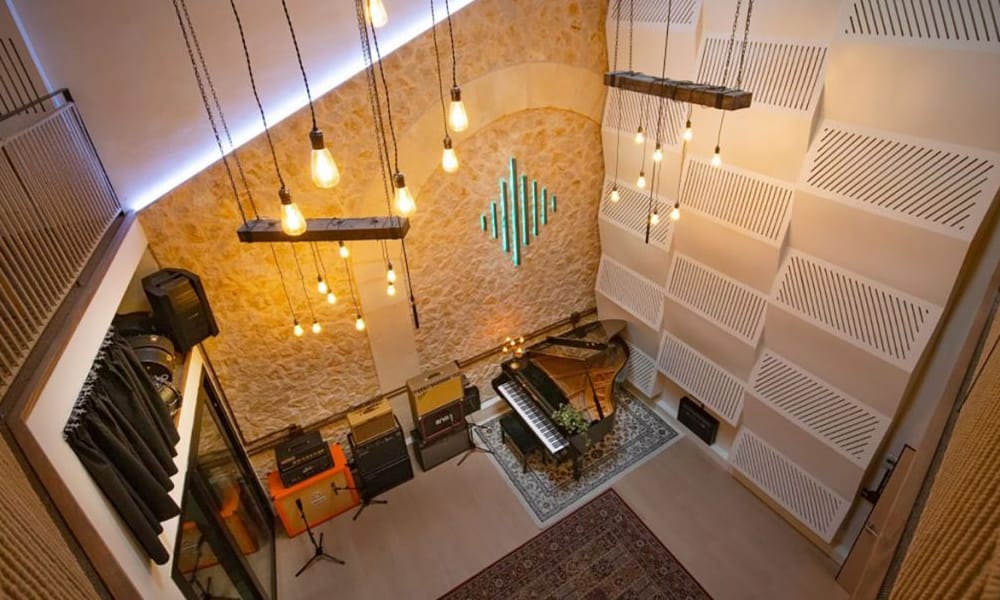 LIVE ROOM
With almost 8-meter ceiling height, our Live Room offers a fantastic ambiance/acoustics and includes a selection of the finest microphones on the planet. With a full instrument backline, Grand Piano, and PA system it also makes the perfect venue for intimate show-cases. Gear & Tech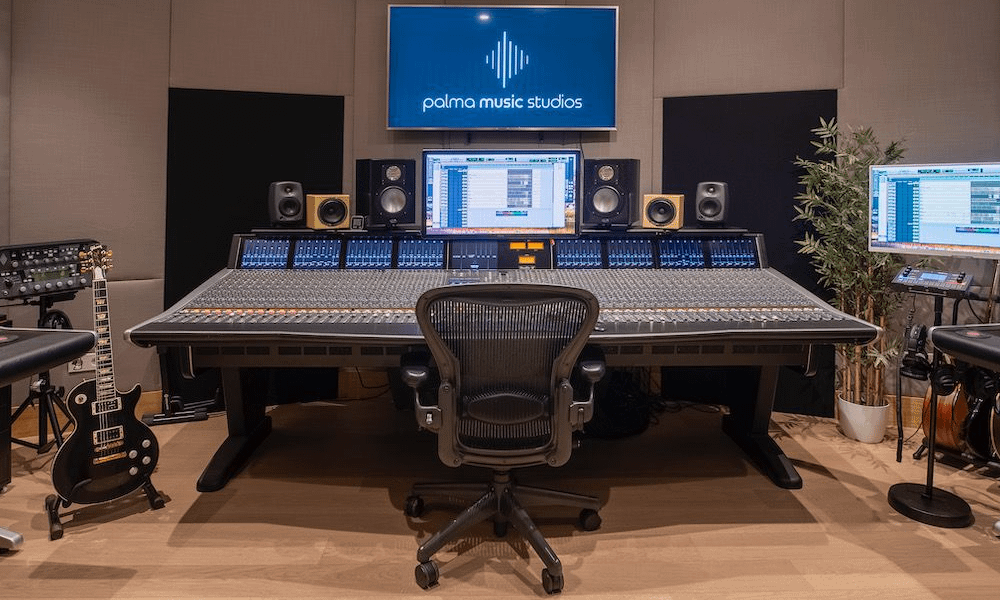 QUINCY ROOM
This is our main recording and mix facility. It has everything you would expect from a classic analog studio, combined with the latest technology and audio connections to all rooms in the building. A 48-channel Solid State Logic Duality desk as a centerpiece and ATC SCM150 speakers as main monitors.
Gear & Tech
MERCURY ROOM
The Mercury Room is our main production studio on floor one. Built for the modern producer with an amazing Augspurger monitor system and a variety of synths and drum machines. Gear & Tech
WINEHOUSE ROOM
This is our surround studio for post-production and ADR but can be used to record, mix, and produce music. The room has windows into the Live Room balcony and is right next to the rooftop terrace stairs and the kitchen/lounge. Gear & tech
ARETHA ROOM
One of our three project studios. This room has a window into the downstairs vocal booth and is perfect for any voice-over or dubbing session. There is a lounge right next to it, where many clients go to write lyrics, rest or have a cup of coffee.
Gear & tech
BOWIE & ZAPPA ROOMS
Are two of our three smaller studios on floor one. Perfect for two songwriters or a producer and a singer/artist. The rooms can be connected to the vocal booth or any other room in the house. Our clients bring their own laptops on floor one and run them with the Apollo Twin or interfaces. Our engineers will help you set up in a few minutes.
Gear & tech
We have six studios, a live room, and two vocal booths on three floors in the middle of Palma De Mallorca. Welcome in and have a look around in our 3D model. You can walk through the entire building in our virtual tour.
what we do
Palma Music Studios is designed to give you the very best in flexibility and comfort for your projects.
recording
Palma Music Studios is built from the ground up for recording. The acoustics in our Live Room are phenomenal for drums, grand piano, and string ensembles. We also have a great collection of some of the finest microphones in the world and there are keyboards, guitars, and Neumann Microphones in all studios.
mixing / mastering
We offer mixing and mastering at Palma Music Studios. Anything from a classic analog mix on the SSL-Duality through the ATC monitors in the Quincy room to the favorite choice studio among our urban/electronic music clients, The Mercury Room, with large monitors, for that magical low end!
writing camps
Palma Music Studios is a perfect place to host songwriting camps. Our six studios, plus the live room, make seven different spaces to work out of.  There have been up to twenty-three songwriters working at the studios at once. We have also many options for accommodation. Palma Music Studios has great deals with hotels and villas nearby. Read more
ADR post-production
For ADR dubbing, voice-over, and post, the Winehouse Room is the studio to work out of. We can remote record via Source Connect and we are SAG/AFTRA approved. The studio features a Genelec surround system, Universal Audio Apollo x8p interface and we run all the necessary software needed needed for your convenience. Our engineers have recorded mixed everything from major feature films, orchestral albums to TV-shows and surround live concerts in this studio.
palma music academy
An Academy for the serious musician. Take your songwriting and production skills to the next level and tailor-make your own program. Palma Music Studios offer online courses by co-owner/-founder Fredrik Thomander.
Palma Music Academy

voice recording
Want to record vocals?
Aretha room is our main studio for that, and it's also perfect for voice-over and audio books. 
Our engineers speak English, Spanish, German, Swedish, Dutch and Danish.
If there is a melody to be found, you can depend it won't escape time spent in this incredible studio. We enjoyed purpose mixed with pleasure on this beautiful Island, with Fredrik relentless until the Holy Grail was found! The desk, equipment and excellent choice of outboard gear mixed with a superb selection of microphones guaranteed a perfect sound, and mix. The excellent design of the huge live room also made drums sound live and responsive, just stunning. Many thanks for making us both feel so at home and welcome. Rock on Palma Music Studios, we will be back! 
It is a world-class recording studio with a fantastic microphone collection.
I will absolutely come back to do some recording. The main room sounds wonderful.
Not only is this an incredibly professional and flexible set of Studios, but they hold a truly unique atmosphere that encourages creativity. Something that's rare and gives a very special energy to the way you work within the surroundings. Good vibes, equal easy flows and that's the best way to boost progression.
SPEAKERS
GENELEC 1031A SURROUND SYSTEM WITH SUB 
INTERFACE
UNIVERSAL AUDIO APOLLO X6
GUITARS
TAYLOR GSMINI, 
PRS SE 245, 
YAMAHA BROAD BASS
GIBSON LES PAUL GOLDTOP
PRS STUDIO
MONITOR CONTROLLER
DRAWMER MC7.1
VARIOUS
BEYER DYNAMIC DT-250
SENNHEISER HD 280 PRO
SAMSUNG HDMI SCREEN
SAMSUNG 4K SCREEN
THE BOWIE & ZAPPA STUDIOS
SPEAKERS
UNITY ROCKS MKII + AVALANCHE SUBWOOFER
INTERFACE
ANTELOPE ZENTOUR
UNIVERSAL AUDIO APOLLO TWIN
MICROPHONE
NEUMANN TLM 107
KEYBOARDS
ROLAND FP-30
GUITARS
TAYLOR GSMINI
FENDER TELECASTER
VARIOUS
SENNHEISER HD 280 PRO
BEYER DYNAMIC DT-250
OWC THUNDERBOLT 3 DOCK
SAMSUNG HDMI SCREEN
SPEAKERS
UNITY ROCKS MKII + AVALANCHE SUBWOOFER
INTERFACE
ANTELOPE ZENTOUR
UNIVERSAL AUDIO APOLLO TWIN
MICROPHONE
NEUMANN TLM 107
KEYBOARDS
ROLAND FP-30
GUITARS
TAYLOR GSMINI
FENDER TELECASTER
VARIOUS
SENNHEISER HD 280 PRO
BEYER DYNAMIC DT-250
OWC THUNDERBOLT 3 DOCK
SAMSUNG HDMI SCREEN
SPEAKERS
AUGSPURGERS SOLO12 + SUBS 
INTERFACE
UNIVERSAL AUDIO APOLLO X6
AUDIENT ASP800, 
MICROPHONES
NEUMANN TLM 107,
MONITOR CONTROLLER
DRAWMER MC7.1
PREAMPS
LINDELL 6X-500, LINDELL 7X-500, LINDELL PEX-500
KEYBOARDS
ROLAND SYSTEM 8
ROLAND FP-30
ROLAND XV-5080
ROLAND VOCODER VP-03
ROLAND STUDIO ELECTRONICS SE-02
STUDIO ELECTRONICS SE-1
ROLAND BASS LINE TB-03
ROLAND OCTOPAD SPD-30
ROLAND RHYTHM COMPOSER TR-08
ACCES VIRUS TI,
ROLAND SH-01A
NI MASCHINE
GUITARS
TAYLOR GSMINI,
PRS SE 245,
FENDER JAZZ BASS SPECIAL
AMPS
HUGHES & KETTNER TUBE MEISTER 18, 
MESA BOOGIE M3 CARBINE, 
VARIOUS
BEYER DYNAMIC DT-250
SENNHEISER HD 280 PRO
SAMSUNG HDMI SCREEN
ALESIS Q25, 
OWC THUNDERBOLT 2 DOCK, 
AUKEY USB HUB, EMAGIC MT4
QUINCY STUDIO / LIVE STUDIO 
DESK
SSL DELTA DUALITY 48 CHANNEL
SPEAKERS
ATC SCM 150A
UNITY ROCKS MKII
AVANTONE ACTIVE MIXCUBE
GENELEC 8020
INTERFACES
ANTELOPE ORION HD 32
ANTELOPE ORION HD 32
COMPUTERS
APPLE MAC PRO (BLACK TOWER)
APPLE MACBOOK PRO
SCREENS
SAMSUNG 55'
DELL 32'
PHILIPS 27'
GEAR
NEVE 1073 DPA
NEVE 1073 DPA
NEVE 1073 DPA
NEVE 1073 DPA
TELETRONIX ENGINEERING LA2A
UNIVERSAL AUDIO 1176
UNIVERSAL AUDIO 1176
SHADOW HILLS DUAL VANDERGRAPH
SHADOW HILLS MONO GAMA
SHADOW HILLS MONO GAMA
LISSON GROVE R-124
WEST HILLS EM-PEQ2
POLAR 160 STEREO COMPRESSOR
COMPEX LIMITER F760X-RS
GML MODEL 8200 PARAMETRIC EQ
EMPIRICAL LABS DISTRESSOR
EVENTIDE H8000FW
EUROPA PREAMPLIFIER
EUROPA PREAMPLIFIER
LEXICON PCM96
BRICASTI M7
AVID SYNC HD BENCHMARK DAC2-DX
MOTU 896MK3
MOTU MICRO LITE MIDI
UNIVERSAL AUDIO SATELLITE
SONNET TECHNOLOGIES ECHO EXPRESS III
MOOG ANALOG DELAY
TASCAM RW900SL
CLOUD ENGINEERING CLOUDFILTER
LAVRY AD122-96 MX
INSTRUMENTS
TAYLOR ACOUSTIC GUITARS GS MINI
TAYLOR ACOUSTIC GUITARS GS MINI
TAYLOR ACOUSTIC GUITARS GS MINI
TAYLOR ACOUSTIC GUITARS GS MINI
TAYLOR ACOUSTIC GUITARS 814CE-DLX
TAYLOR ACOUSTIC GUITARS 562CE 12 STRING
TAYLOR ACOUSTIC GUITARS 314
FENDER P-BASS
HAGSTROM BASS NORTHERN SERIES – SUPER SWEDE
GIBSON THUNDERBIRD BASS
YAMAHA BB SERIES
FENDER TELECASTER
FENDER TELECASTER
FENDER TELECASTER
FENDER STRATOCASTER
FENDER STRATOCASTER
PAUL REED SMITH CE24
K. KAWAI GRAND PIANO
ROLAND FP-30
AMPLIFIERS & CABS
FRIEDMAN PINK TACO 50W
SUHR BADGER 50W
MESA BOOGIE MARK V
MESA BOOGIE MARK V CAB 1X12
ENGL RETRO TUBE 50W
CORNELL ROMANY
FENDER DELUXE REVERB
ORANGE 4X12 CAB
PEAVEY VALVEKING
AMPEG BA300-210
DIGITAL AMPS
KEMPER PROFILING AMP
LINE 6 HELIX
MICROPHONES
DIDRIK DE GEER MODEL NO.2
TELEFUNKEN U47
SONY C800
MANLEY GOLD REF.
JOSEPHSON C700A
NEUMANN U87
NEUMANN U87
COLES 4038
COLES 4038
ROYER 121
AKG 414
SHURE SM7
SENNHEISER 421
SENNHEISER 421
SENNHEISER 421
SCHOEPS MK4 CMC5U
NEUMANN KMS 105
NEUMANN KMS 105
NEUMANN 107
NEUMANN 107
NEUMANN 107
NEUMANN 107
ELECTRO VOICE RE-20
SHURE SM57
SHURE SM57
SHURE SM 58
SHURE SM 58
AKG D12
AKG D112
YAMAHA NS-10 SUB
DRUMS
DW FULL KIT
PAISTE CYMBALS
ZILDIJAN CYMBALS
REMO HEADS
ONE O ONE SNARE
SONOR SNARE
DW STANDS
YAMAHA STANDS
LIVE ROOM MONITORING SYSTEM
LIVE MIX AD-24
LIVE MIX AD-24
LIVE MIX AD-24
LIVE MIX AD-24
LIVE MIX AD-24
LIVE MIX AD-24
LIVE MIX AD-24
HEADPHONES
SENNHEISER HD 280 PRO
BEYERDYNAMIC DT 250
BEYERDYNAMIC DT 252
MIDI KEYBOARDS & OTHER
ALESIS Q25
ALESIS Q49
NOVOTRON LAUNCHPAD PRO
RADIAL RE-AMP
LEHLE P-SPLIT
PA
BOSE L1/B2 MODEL II
BOSE L1/B2 MODEL II
BOSE S1
BOSE F1
BOSE F1
LIVE ROOM MONITORING SYSTEM
LIVE MIX AD-24
LIVE MIX AD-24
LIVE MIX AD-24
LIVE MIX AD-24
LIVE MIX AD-24
LIVE MIX AD-24
LIVE MIX AD-24
HEADPHONES
SENNHEISER HD 280 PRO
BEYERDYNAMIC DT 250
BEYERDYNAMIC DT 252
MIDI KEYBOARDS & OTHER
ALESIS Q25
ALESIS Q49
NOVOTRON LAUNCHPAD PRO
RADIAL RE-AMP
LEHLE P-SPLIT
PA
BOSE L1/B2 MODEL II
BOSE L1/B2 MODEL II
BOSE S1
BOSE F1
BOSE F1